Welcome
. . . to
OOPS
. OOPS is the only approved fan listing for the hit album
OOPS! ...I DID IT AGAIN
by
BRITNEY SPEARS
. This is the only fanlisting that is listed at
The Fanlistings
under the
Albums
. OOPS is housed under the
GodGiveMeTruth
network. I have no affiliation with Britney Spears, her record label, or anyone else associated with the superstar. I am simply just a fan.
Tell Me More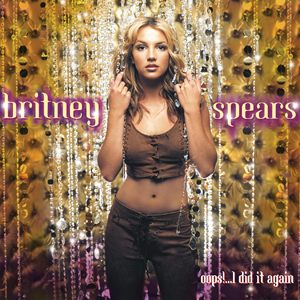 Oops!... I Did It Again is the second studio album by American recording artist Britney Spears. It was released on May 3, 2000 by Jive Records. Its music incorporates pop, dance-pop, and teen pop styles, much in the vein of her debut album ...Baby One More Time (1999).[3] The album also explores a more funkier and R&B sound, while Spears also covers the Rolling Stones' "(I Can't Get No) Satisfaction" and the Jets' "You Got It All" on the UK's edition. Contributions to the album's production came from a wide range of producers, including Max Martin, Rami Yacoub, Per Magnusson, David Kreuger, Kristian Lundin, Jake Schulze, Darkchild, and Robert John "Mutt" Lange.
Upon its release, Oops!... I Did It Again received generally favorable reviews from music critics. It debuted at the top the U.S. Billboard 200, with first-week sales of 1,319,000 copies, breaking the previous SoundScan record for the highest debut-week album sales by a solo artist.[5] The album also reached number one in 15 other countries while peaking inside the top five positions in Australia, Finland, Japan, New Zealand and the United Kingdom. It was her second album to receive a diamond certification from the Recording Industry Association of America (RIAA).[6] The album has sold 24 million copies to date, making it one of the highest selling albums of all time and Spears' second best selling album after ...Baby One More Time.
Four singles were released from the album. Its title track became an international hit reaching number one in Australia, Canada, United Kingdom and nine other countries while peaking in the top five positions in six other countries and number 9 on the US Billboard Hot 100 chart. Its second single "Lucky" reached number one in five countries, top-ten in twelve countries and number 23 on the U.S., while its third single "Stronger" became a top-ten hit in nine countries and reached number 11 on the Billboard chart, becoming the highest-selling single of the album in the United States, receiving a Gold certification in the US and three other countries. Its final single, "Don't Let Me Be the Last to Know", became a moderate hit on the charts.
What is a fanlisting?
"A fanlisting is simply an online list of fans of a subject, such as a TV show, actor, or musician, that is created by an individual and open for fans from around the world to join. There are no costs, and the only requirements to join a fanlisting are your name and country. Fanlistings do not have to be large sites (although some are), they are just a place where you can sign up with other fans." -
TFL.org
OOPS Statistics
This listing was opened on September 19, 2015. The last update was
October 7, 2020
. There are currently
9 members
with 0 waiting to be added.
Laura »
is our latest member to join, welcome! At this time we are networking with 0 fanlistings.
© 2015 - 2020 Obsession & GodGiveMeTruth.